Learn How to Ensure Learners are with you During Online Trainings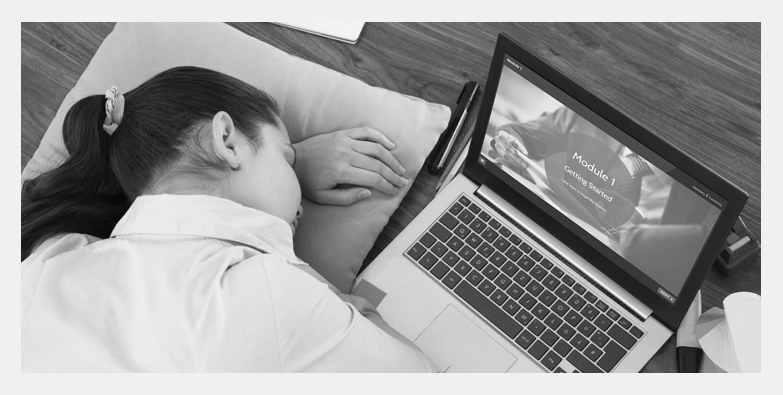 Are Your Learners Disengaged?
---
Adoption and deployment of right eLearning module assure that employees are trained in a much better way through which overall profitability of the organization is supercharged in the long term. However, the fact is that adoption and deployment of an appropriate eLearning platform are just the half-work done. To assure there is an expected skill enhancement of employees, it is necessary to track employees' progress as well.
Many a time, after making huge investments on learning needs of employees, there remains a possibility that employees may fail to enhance their knowledge according to the organization's needs and objectives. There are several reasons that lead to the failure of online training, among which disengagement between learners and the trainer is the most common. On several occasions, online training miserably fails to deliver expected outcome due to the lack of motivation, low self-confidence, negligence and diversity among employees' backgrounds.
A Case Study
---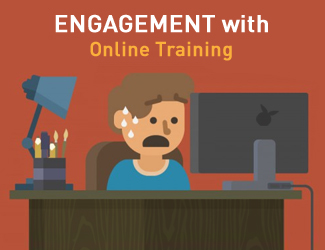 To train its employees regarding the issues confronting patent rights and IPR, a globally renowned pharmaceutical company after making lots of effort and investment, adopted an advanced version of Learning Management System (LMS). Though, after a month of virtual or online training, when assessments of employees were done, results were not up to the mark. Later, the organization hired an eLearning firm and asked it to evaluate reasons behind the failure.
After assessing data on learners' engagement with online training, an eLearning expert came out the fundamental reason behind the failure, which is disengagement between employees and online training. To ensure that learners are engaged and motivated during online training, an eLearning pro suggested 5- great tips, which we elaborately discuss in this blog post. Let's begin.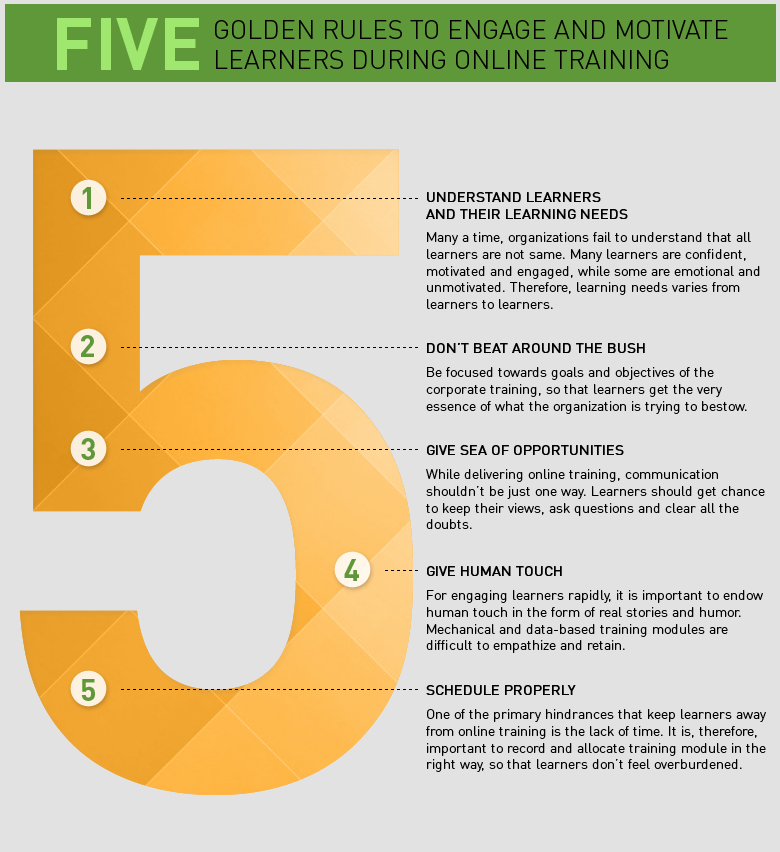 Following these words of advice from an eLearning pro, the pharmaceutical firm tried to implement online training in a modified way, following which the organization may easily earn the outstanding dividend.

Last Few Words
---
During the implementation of online training, it is a prerequisite for any organization to ensure that learners are engaged and motivated. Understanding learning needs of the diverse learner groups and designing the learning module accordingly helps the organization to create an engaging and sophisticated training modules. If your organization is facing hassles in engaging employees for online training, feel free to connect with us anytime.